A Garden of verbs 7 & 8 grade
Grade 8
French rap


French students are singing in a rap beat. It reincorporates some of the new structures of Chapter 5.

Je vais au café, au café.
Je vais prendre un café, un café au lait, au lait.
Et toi, tu voudrais un café au lait, au lait.
Tu vas avec moi au café, au café.
On y va ensemble. Pourquoi pas, pourquoi pas?
Un café, un café, toi et moi, c'est super, super.
On y va? Oui, on y va!

French PBL
Students worked on a PBL - The restaurant Project



​Un Sandwich dégoûtant - Disgusting Sandwich Contest

In chapter 6, we talked about food and quantity of food. We also learn the partitive articles; a very difficult section of French grammar to master for the students. We practice the partitive articles and the vocabulary by decribing a sandwich with the most disgusting combination.
The class had to vote for the top three unappetizing creations.

Here are the three top winner starting with the 3rd runner up
​
Grade 8 Finishing Chapter 7 - After learning clothes vocabulary, how to shop, asking for sales, different sizes and talking about French designer, we decided to have a little fun and test our new vocabulary knowledge by describing our friend's clothes on the runway.

​Les vêtements THE FASHION SHOW Project Runway



Le jeu PBL APPRENDRE EN JOUANT French II
Powered by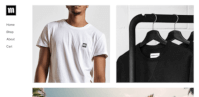 Create your own unique website with customizable templates.